APPLE today announced two new SoCs, the M2 Pro and M2 Max. The M2 Pro upgrades the architecture of the M2, featuring up to 12-core CPUs and up to 19-core GPUs, along with up to 32GB of fast unified memory. The M2 Max inherits the capabilities of the M2 Pro, including up to 38-core GPUs, twice the bandwidth of unified memory, and up to 96GB of unified memory. Industry-leading performance-per-watt makes the M2 Max chip the world's most powerful and energy-efficient chip for professional notebooks. In addition, both of these new chips feature advanced customization technologies, including a faster 16-core Neural Engine and Apple's powerful media engine. M2 Pro brings professional performance to the Mac mini for the first time.
Apple Senior Vice President of Hardware Technology, Johnny Srouji said, "Only Apple can create a SoC like the M2 Pro and M2 Max. Both of these chips offer excellent professional performance and industry-leading battery savings. Thanks to more powerful CPUs and GPUs, the M2 Pro and M2 Max represent incredible advances in Apple silicon."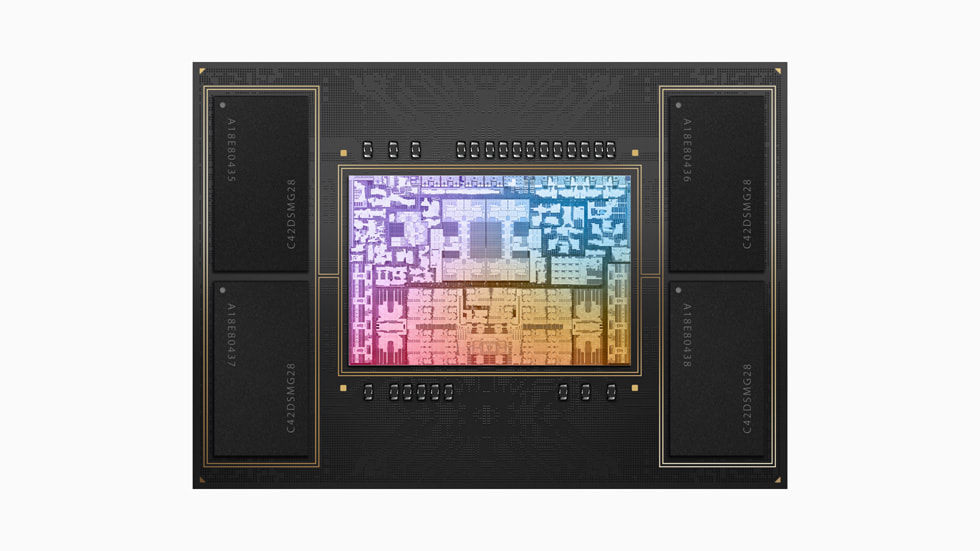 M2 Pro: Next-generation performance for professional workflows
The M2 Pro has 40 billion semiconductor components, up from 30 billion in the M1 Pro. The M2 Pro has 200GB/s unified memory bandwidth, up from 160GB in the M1 Pro. The M2 Pro has up to 32GB of low-latency unified memory, up from 16GB in the M1 Pro. The next-generation 10- or 12-core CPUs in the M2 Pro have up to 8 high-performance cores and 4 energy-efficient cores, compared to up to 6 high-performance cores and 4 energy-efficient cores in the M1 Pro. Applications such as Adobe Photoshop can run heavy workloads faster in the M2 Pro, and composing in Xcode is also 2.5 times faster than on the MacBook Pro with the fastest Intel chip. The GPU in the M2 Pro is configurable 19 cores, up from 15 in the M1 Pro. The GPU in the M2 Pro has a larger L2 cache, up from 2.4 billion in the M1 Pro. The graphics speed is 30% faster in the M2 Pro, increasing image processing performance and enabling console-quality gaming.
M2 Max: Powerful Chip with World's Best Performance for Professional Personal Computer
With 67 billion semiconductor components – 10 billion more than the M1 Max and more than 3 times more than the M2 – the M2 Max pushes the performance and capabilities of Apple silicon even further. The bandwidth of unified memory is 400GB/s, which is twice as fast as M2 Pro, 4 times faster than M2, and supports up to 96GB fast unified memory. As a result, huge files can be opened instantly, and users can work on many professional applications extremely quickly and fluently.
The M2 Max has the same next-generation 12-core CPU as the M2 Pro. GPUs up to 28 cores are even more powerful, and paired with a larger L2 cache. Graphics speed increased 30% faster than M1 Max. Coupled with 96GB of memory, the new MacBook Pro with the M2 Max chip can handle graphics-heavy projects that other competing systems can't even run. 
2
 From processing visual effects, to training machine learning models, to stitching together gigapixel images, MacBook Pro with M2 Max delivers incredible performance whether plugged in or on battery power. M2 Max is the world's most powerful and efficient chip for professional personal computing.
Unlock More Possibilities with Custom Technology
Both M2 Pro and M2 Max feature up-to-date custom technologies:
Both the M2 Pro and M2 Max include Apple's next-generation, 16-core Neural Engine that can perform 15.8 trillion operations per second, and is 40% faster than the previous generation.

The M2 Pro features an incredibly powerful and efficient media engine, including hardware-accelerated H.264, HEVC, and ProRes video encoding and decoding, allowing playback of multiple 4K and 8K ProRes video streams while in use. very little power. In addition, M2 Max owns two video encoding engines and two ProRes engines, making video encoding 2 times faster than M2 Pro.

Apple's latest image signal processor has better noise reduction capabilities, and along with the Neural Engine, the processor enhances the camera's image quality through computational video technology.

The next-generation Secure Enclave is a key part of Apple's leading security technology.
macOS Ventura with M2 Pro and M2 Max
macOS has been designed for Apple silicon, and the combination of macOS Ventura with new industry-leading chips delivers exceptional performance and productivity to users. Apple silicon-powered Macs have access to over 15,000 native apps and plugins that unlock the full power of M-series chips.
macOS Ventura brings many new features including Stage Manager, new capabilities with Continuity Camera, and Handoff in FaceTime. macOS Ventura also includes major updates. with Safari, Mail, Messages, Spotlight, and more. All are more responsive and run efficiently on the M2 Pro and M2 Max.
Apple Silicon and the Environment
The M2 Pro and M2 Max help make the new MacBook Pro and Mac mini meet Apple's high standards for energy efficiency. Apple silicon's power-saving performance helps the new MacBook Pro achieve the longest battery life ever on a Mac – up to 22 hours. 
3
 This results in less time to be plugged in and less power consumption over its lifetime.
Today, Apple is carbon-neutral in its operations globally, and by 2030, Apple plans to be completely climate-zero across its entire business, including covers the entire manufacturing supply chain and all product life cycles. This means that every chip Apple makes, from design to manufacturing, will be 100% carbon neutral.